Lead Stories
Vice President Mike Pence visited Fort Wayne Thursday to drum up support for President Trump, accompanied by some top Indiana Republicans and other GOP leaders. The rally started at about 4 PM yesterday in the Fort Wayne Aero Center with words from Rep. Jim Banks and Louisiana Rep. Steve Scalise. Governor Eric Holcomb took the stage to introduce the Vice President, who preceded Holcomb as Governor of Indiana. Holcomb talked about his relationship with Pence. "I've known this guy for decades,...
Read More
Arts and Culture
Creative Women of the World is celebrating Mexico's Day of the Dead with a special installation of ofrendas, or altars, an authentic and key tradition of the holiday.
Read More
State News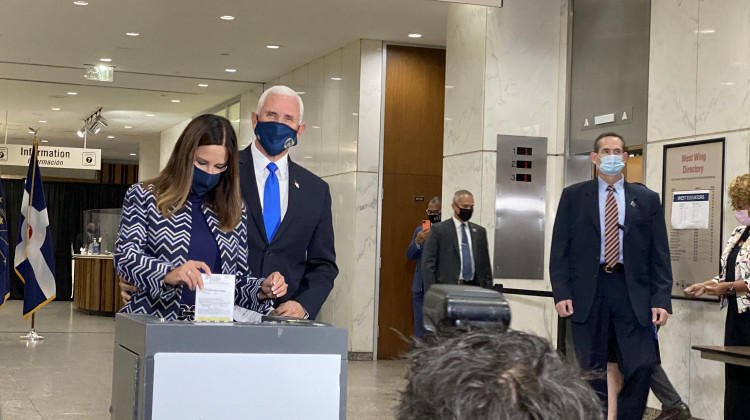 Vice President Mike Pence and wife Karen Pence cast absentee ballots in Indianapolis Friday. Pence is the former governor of Indiana and used the governors mansion address to vote. Indiana law allows him to use the address, even though he no longer lives there, because he has been away serving on the business of the United States. The vice president did not answer questions from the media, however he did say it was an honor to vote in his home state after depositing his ballot. Great honor,...
Read More
WBOI Presents
The subject of this show is not intended for all listeners. In September, a nurse who worked at an immigration detention center filed a whistleblower complaint alleging, among other things, that immigrant women received questionable hysterectomies. The focus of our episode this week is forced sterilizations, the history of the eugenics movement, and human rights abuses.
Read More