Hosts Work To Provide Sense Of Family To Latin American TinCaps Players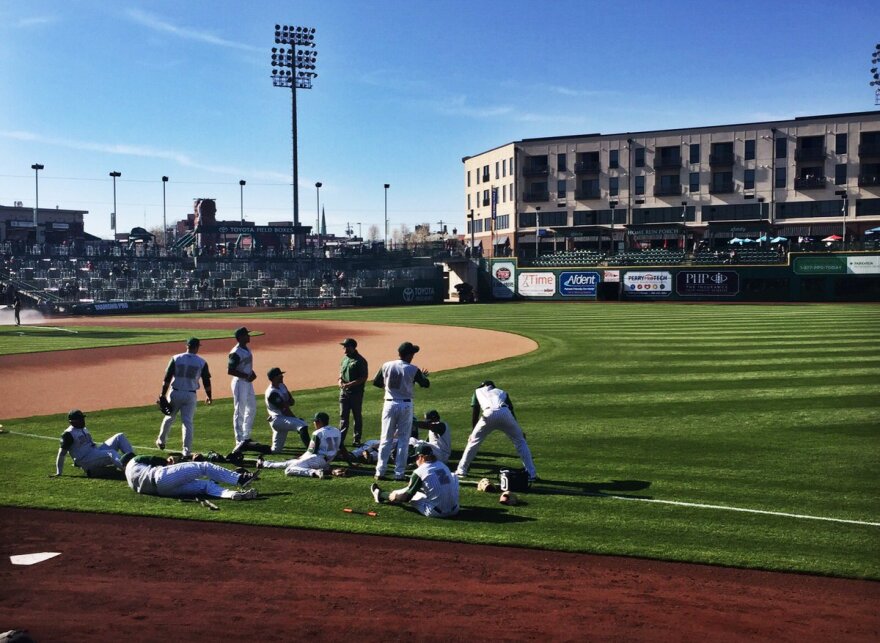 A baseball season can be a long and difficult process for players in the major and minor leagues. This is especially true for members of the Fort Wayne TinCaps that aren't from the United States.
After six weeks in Phoenix for spring training, the San Diego Padres assigned 25 players to the Fort Wayne TinCaps. Those players arrived on April 1. One week later, they were playing their home opener at Parkview Field in downtown Fort Wayne.
As a lower level minor league club, the median age of the TinCaps' roster is 21 years old, and many of these players are coming from countries far away from their families. Which is why the TinCaps, like many other teams in the minor leagues, offer a host family program geared largely toward Latin American players.
Mike Nutter is the president of the TinCaps. He says he wants to players from different walks of life to feel welcome in Fort Wayne and give them an even standing.
"It's a 140 games in 152 days. It's an organized grind, chaos, crazy… but especially for the Latin guys," said Nutter. "The guys are coming from a different culture, they've never been in weather this cold, some of the English isn't totally there yet."
Nutter says host families try to make Latin American players in Fort Wayne feel right at home, whether it's by providing supplies for bedding or cooking, or making home-cooked meals themselves. He says the host family base has been consistent over the years.
"Since I've been here, I think Doug and Eva Rood have had people every single year."
They've been hosting players for 21 years, to be exact.
Doug and Eva Rood have always been baseball fans. Doug has been a New York Yankees fan his entire life, while Eva loved Johnny Bench and the Reds in the '70s.
They take in Spanish-speaking TinCaps players every year, and have since they were known as the Wizards. They once housed long-time Minnesota Twins second baseman Luis Rivas, and also gave a home to current big leaguers Joakim Soria and Oliver Perez.
For Eva, she says growing up in a Latin American culture helped her understand the importance of being there for these men at such a young age.
"They are very close to their mothers, usually," Eva said. "So I kind of wanted to be there to help them. I love taking care of them. They're mama's boys mostly, they like being taken care of."
Doug, on the other hand, didn't grow up in a Latin American environment and doesn't speak Spanish. But whenever one of the players shows an interest in American culture, that's when Doug has a chance to connect with the players.
"We had Carlos Belen," she said. "He, for some reason, wanted to know about the Amish. So Doug took him to Grabill so he could see some Amish people and how they live."
Last year, the Roods housed top Padres prospect Anderson Espinosa, who was intent on learning and mastering the English language. According to Eva, he would read anything from food labels to newspapers, and consult with Doug whether he was saying things correctly.
Their ultimate goal is to provide a sense of family for players whose families are far away in a distant country. Doug and Eva want them to feel loved when they move on to the next stage of their careers.
"By the time they leave, most of the time, they'll be calling me 'mama,' she said. "And I just love it when I hear them call, and then they always ask for blessings. For me, I want them to leave knowing there's people who love them for themselves, and not just because they're baseball players."
Nutter says families like Doug and Eva are the reason the program succeeds.
"They have good intentions," said Nutter. "It's not about them, it's not about what they're going to get out of it. Their heart is in the right place, and that's what matters."
It's a labor of love for Doug and Eva, who put much of their own finances into providing for the players. They don't have any players under their roof yet for this season, but Eva says that should change at the end of the month.
They try to show support for all TinCaps players, even the ones who aren't staying with them. They understand that the parents of the Latin American players likely won't be able to watch them play in Fort Wayne. So they make it a point to visit Parkview Field regularly.
"I think it is important to them that she's there every night that she can be because I think they have a real connection with her, which is good," Doug said.
"If we're late it's like, 'Where were you? When did you get here?'" Eva said with a laugh.
And they sat alongside the first base dugout on opening night, cheering their boys on.