ACPL offers new memory kits for patrons with dementia and their caregivers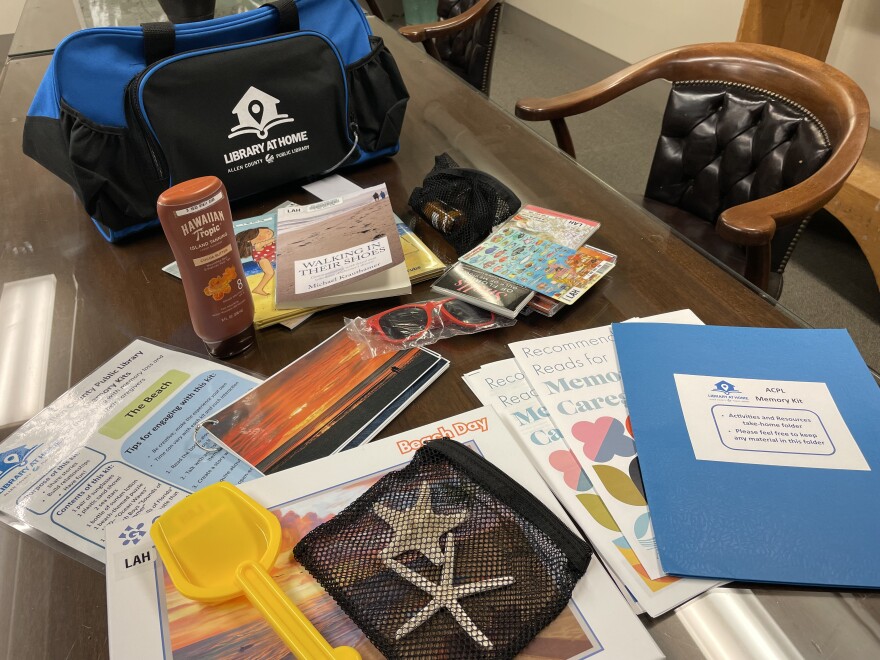 Jonathan Frincke is the Outreach Specialist for the Allen County Public Library's Library at Home Department. He spends a lot of time in the community, especially at senior living facilities and around memory care units.
"Anything we do probably starts when we see a need in the community," Frincke said.
Frincke helped pioneer the idea of the memory kits.
Each kit has a different theme that the items inside reflect. They're filled with colorful infographics, books, CDs, photos and even scent jars.
"So, we're looking kind of at the broad spectrum of all five senses and what we can use to spark conversation and reminiscence," Frincke said.
Memories can be sparked by familiar sights, sounds, and even smells. That's what the kits look to harness.
Working with Library at Home, Frincke said they can see, and often hear, the need for more support for both library patrons with memory loss and their caregivers.
"We know the problem is not going away," he said. "And so, we're trying to help the population that we have there out in the community."
The library began working on the project in August, but debuted the kits at the Great Day Café on Nov. 9. The café was created in partnership with Aging and In-Home Services.
"That was designed as a place for people with dementia, other memory issues, and their caregivers to come and just be together in kind of a judgment free zone," Frincke said.
The café hosted activities to enrich "mind, body and soul." A local musician, Jeff Myers, played old classics like Elvis and Frank Sinatra, which Frincke said led to some singing along.
"And so, afterwards, we knew we had the correct audience for a thing like the memory kit," he said.
At the café, the library put up a table where attendees could come and look through the new memory kits and decide whether to take one home with them.
"One of the attendees was looking through it with their caregiver and saw a picture of a boardwalk and he immediately said 'that's Ocean City, New Jersey. That's where my brother lives. I live in San Diego,'" Frincke recalled. "And so, that started a conversation."
That attendee was Charlie Logomasini and his wife and caregiver, Rosemarie. Rosemarie is a retired high school teacher who's been taking care of her husband for about 10 years. Charlie has Alzheimer's.
Rosemarie said the Great Day Café has a really good choice of music because it was mostly more famous oldies.
"My husband loves music," she said. "I could tell he was trying to sing along."
Following the music at the café, Charlie was speaking with someone else when he mentioned Rosemarie.
"And he actually used my name," she said. "And they always say that music kind of unlocks their brain and I was kind of amazed because I hadn't heard him say my name for months."
Following Charlie's recognition of the beach in the photo, they took home the beach-themed memory kit. Rosemarie said, with Charlie being so advanced in his Alzheimer's, a lot of the items in the kit were beyond their use, but the kit still had an impact.
"When I played the Beach Boys he was humming along, he was patting his hands, you know, singing parts of it," she said.
Rosemarie said the memory kits may not only help bring memories back, but also help create new memories.
"It reminds me of a time with my aunt when I took flowers in and I put the bouquet together in front of her with her," she said. "Because that's a special memory I have with my aunt."
The kits also come with a book for caregivers, to help them through the process of caring for someone with memory loss. Frincke said the more help and support they can offer caregivers, the better.
"I think it's hard for them to even find the time to go out and research and know what to bring home, what books to read, what they can do with their loved one or the person that they're caring for when they're at home," he said.
Rosemarie said the book in the beach kit helped.
"I have several books that I've read, but I'd never seen this one. And it was really good, I enjoyed reading it."
Frincke said that, while other libraries in the country offer them, the memory kits themselves are a new way of supporting these members of the community.
"Probably other libraries in Indiana have started programs like this," he said. "They're not very old and I like to think that our kits are the best out there right now."
LifeStream Services, a nonprofit out of Yorktown, Ind. which provides support for older adults and people with disabilities to maintain independence, supplies kits to local libraries around the state.
ACPL's memory kits are put together completely in house, by Frinke, with a different theme for each kit. Currently, the library has five memory kits – the beach, baseball, farming, camping and gardening.
Frincke said they're working on five more kits, with themes games, movie night, pets, holiday baking and backyard birds.
The kits can be placed on hold and checked out just like other library materials. Once checked out, patrons have the item for three weeks.