Community of Comics: Looking Back at Appleseed Con
Comic Conventions are a summer staple across the country. They're an opportunity for creators, fans, and vendors to gather in one place to celebrate all things comics. San Diego Comic Con receives the most attention, but you might not know Fort Wayne has its own comic culture. WBOI's Ben Clemmer profiles a comic con that was held in Fort Wayne for a number of years and the community it helped build.
In 2009, Zack Kruse worked as the marketing director for a Fort Wayne comic shop called Discount Comic Book Service.
"I was putting together a big store event for the tenth anniversary of the store. There was a big sale and we brought in some professional creator friends of mine to do in-store signings, that sort of thing."
That got Kruse thinking… why not have a comic show in Fort Wayne? Those creator friends of his became part of the backbone of Summit City Comic Con, later renamed Appleseed Con.
"For the first two years of the show, with just a couple of exceptions, the artists who came to the show were either personal acquaintances or good friends of mine, or people who I just sought out through other shows and just pitched the show to."
Most small comic conventions are vendor driven. Retailers with boxes of older comics or back issues had a presence at Appleseed too, but the focus was on the Artist Alley experience. The majority of tables at Appleseed Con were spots where comic book writers, artists, and creators of all kinds could share their work with fans and have conversations about the medium they love.
"Appleseed was an outstanding show," Brandon Peat says. He's one of three creators of the comic book Black Rose. They were some of the many local artists given a platform by Appleseed Con.
"The ways that you really get your work out in front of people, one route is online, another is going to shows, hitting the road, and taking your stuff, showing it to people, hopefully making some fans."
The Black Rose team would travel to conventions in roughly a three to four hour radius from Fort Wayne. Doing that, Peat realized there was something else special about Appleseed Con.
"The really great thing about Appleseed, and I don't know how widely known it is, but the tables for the artists were free."
Comic Conventions typically charge fees for artists and vendors to have space and tables at their events. For artists at Appleseed, the table fee was waived.
The emphasis on creators meant a lot to Dave Wachter. He's been nominated for an Eisner Award, the comics equivalent to an Oscar, for his creation, The Guns of Shadow Valley. He was also involved in Appleseed Con from its earliest years.
"There's a lot of shows across the country these days, but so many of them call themselves comics cons, but comics really seem to be more on the periphery."
That was another part of Zack Kruse's vision for Appleseed Con. None of the guests were big celebrities. The focus at Appleseed wasn't on big names who have acted in film and television. The medium of comics took center stage.
"Having a few conventions out there that try to focus on the people who make the comics, the people who write, and come up with the ideas and the people who create the art has been more important than ever I think."
Attendance grew between 2010 and 2015, up to nearly 1500 per year by the end of the show's run, but artists remained accessible. There weren't long lines for autographs that fans had to pay to stand in, a common occurrence at larger conventions. Here's comic book writer and artist Hilary Barta.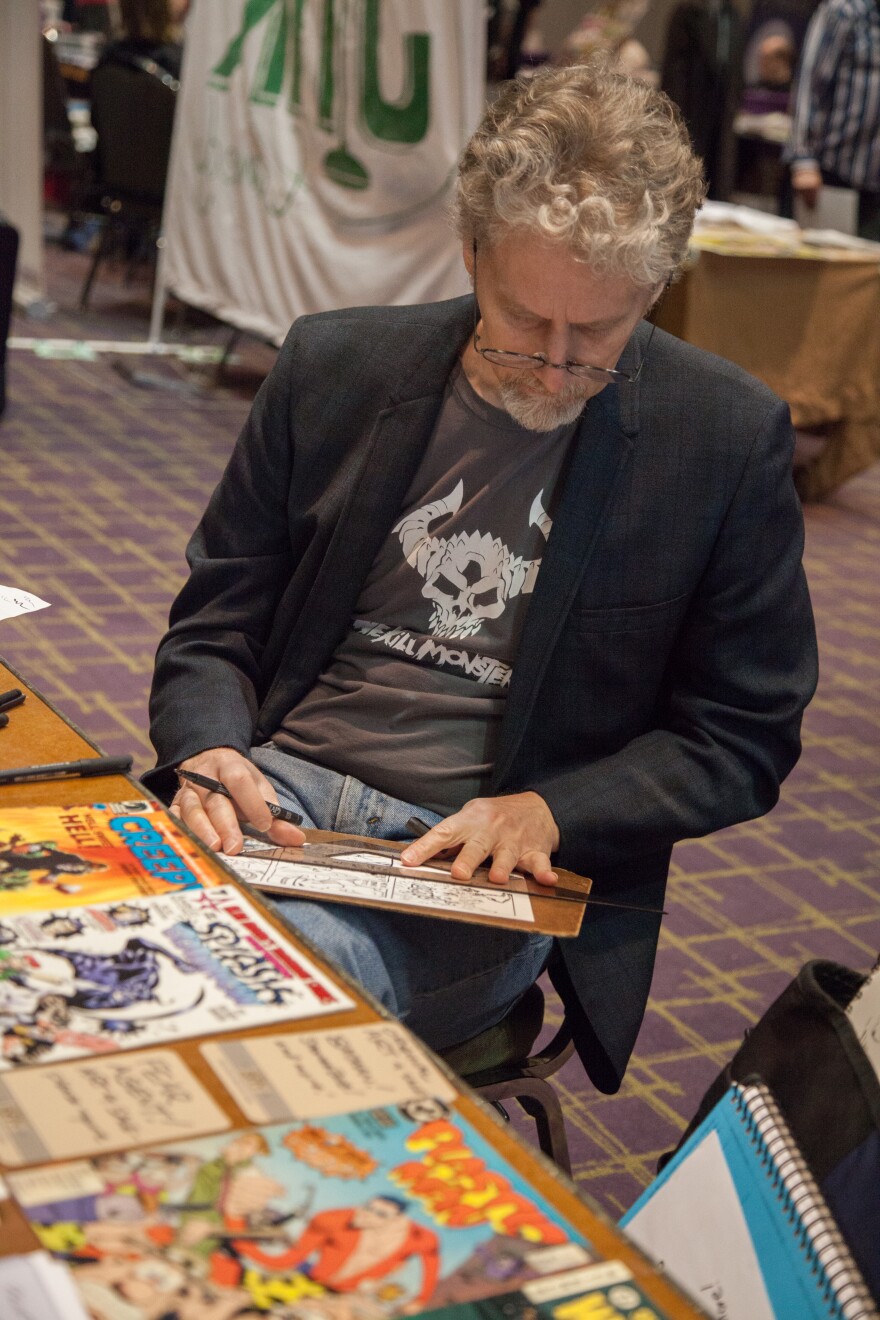 "You wouldn't have crowds so people could talk and stand around. There's no rush. You could spend your time and take your time with people and interact."
Barta has drawn the Simpsons, the Teenage Mutant Ninja Turtles, and even Spongebob Squarepants for kid's comic books. At Appleseed he drew free Spongebob sketches for kids, serving as an ambassador reaching new readers. Interactions like these are what made the convention unique.
"I've been to a handful of different kind of comic cons, and Appleseed is unique in that it's very intimate. It's very personal," says Ashley Motia. She helped organize the convention when it became too big for one person to manage.
"Every weekend when the con would get done, I would have notes on email or paper of just the inspiring things that people were talking about and that I had seen. Even as someone who's not an artist, I couldn't help but be inspired by what Zack had built."
Kruse now teaches classes at Michigan State. He teaches twentieth and twenty-first century American literature and comic books. Two years ago he made the hard decision to put Appleseed Con on hiatus. Volunteers, artists, and fans still look back on it as something special to them. It's called a hiatus for a reason and the pieces of the convention remain in place. One of these summers might just be the one when Appleseed Con returns.