Weekly Statehouse update: Anti-trans, anti-LGBTQ+ bills move forward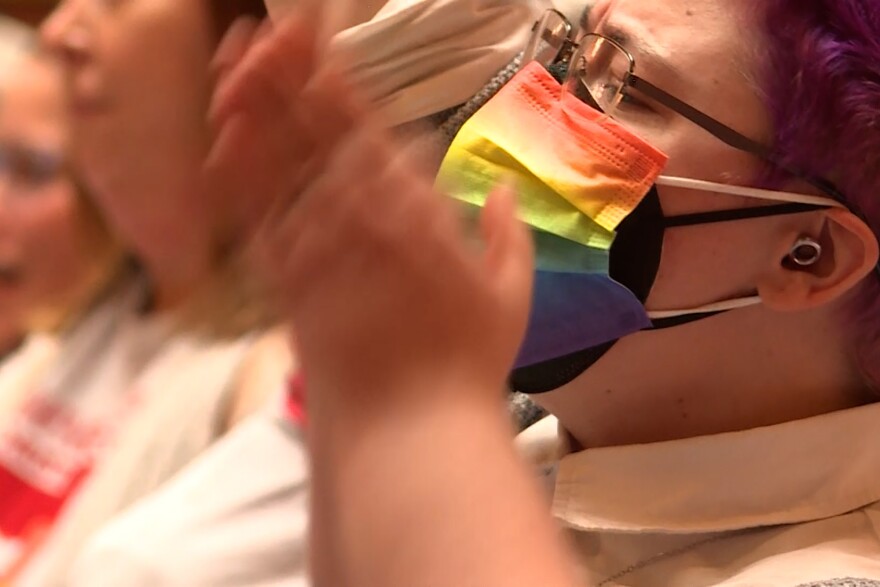 Republican lawmakers take aim at the LGBTQ+ community, particularly transgender children.
Here's what you might have missed this week at the Statehouse.
HB 1608: Sexual orientation and gender identity instruction
A bill advanced by the House would ban teachers from discussing topics around human sexuality in kindergarten to third grade and force schools to notify parents if children request to change their name or pronouns in a way that is inconsistent with their sex assigned at birth.
That language is similar to a Senate bill, SB 386, which was taken off of the Senate education committee's agenda following pushback. That bill is not moving forward this legislative session.
Supporters say it's about parents' rights.
LGBTQ+ advocates said House Bill 1608's language is too vague and creates a hostile and dangerous environment for LGBTQ+ youth in classrooms. Hundreds of LGBTQ+ advocates gathered outside the House chamber Monday to protest. Many have seen this and similar proposed bills in Indiana and across the country as an attack on transgender children.
SB 480: Gender transition procedures for minors
Transgender children could no longer access gender-affirming medical care – either surgical or medicinal – under a bill approved by a Senate committee. It is already against national and international guidance to perform gender-affirming surgeries for transgender youth, and no provider in Indiana offers it for minors.
The state's major medical groups oppose the measure and say gender-affirming care can be critical for the well-being of trans children. And the only people from Indiana who supported the bill in committee did not receive gender-affirming care as minors.
READ MORE: Indiana lawmakers file record number of anti-LGBTQ+ bills, tripling previous years
Join the conversation and sign up for the Indiana Two-Way. Text "Indiana" to 73224. Your comments and questions in response to our weekly text help us find the answers you need on statewide issues throughout the legislative session. And follow along with our bill tracker.
And under House-approved legislation, HB 1407, courts could no longer remove a transgender child from their parent or guardian if they're denied gender-affirming physical or mental health care – even if that child is suicidal.
The bill's origin is a court case currently being considered by the Indiana Supreme Court.
The court record shows that the Department of Child Services responded to multiple reports that a mother was emotionally and mentally abusing her child because the child is transgender.
DCS reported that the mother called her child "the bitch that killed my son." DeVon described her as a "strong Catholic woman" and "loving mother" whose child was, in his view, unjustly taken from her.
Brandon is our Statehouse bureau chief. Contact him at bsmith@ipbs.org or follow him on Twitter at @brandonjsmith5.