Civic Theatre's All-female Production of "1776" A Revolutionary Adventure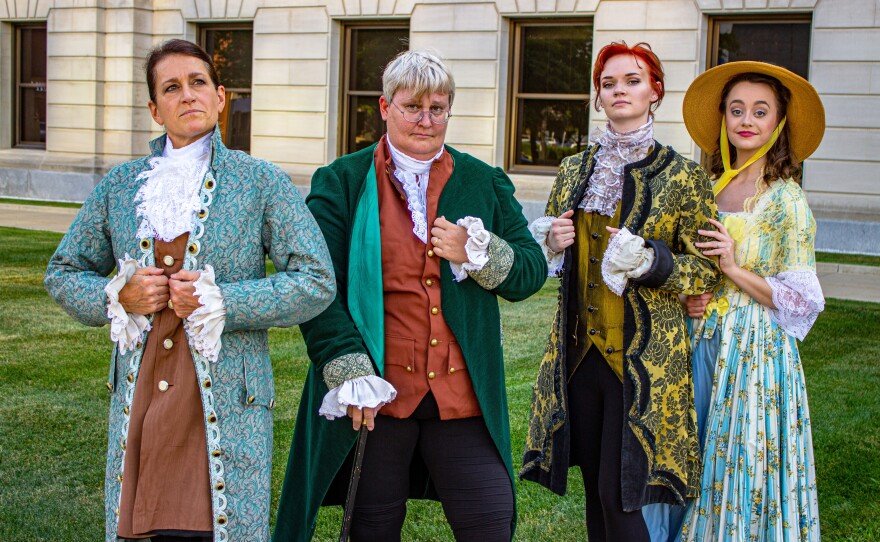 John Adams, played by Amy Ross (far left) stands with Benjamin Franklin and Thomas & Martha Jefferson on Fort Wayne's own Courthouse Square.
Courtesy/Fort Wayne Civic Theatre
Masked and ready for action
Courtesy/Fort Wayne Civic Theatre
Ross in John Adams stance
Courtesy/Fort Wayne Civic Theatre
Pam Karkosky, being Benjamin
Courtesy/Fort Wayne Civic Theatre
Tia Hackbush and Diana Marie Rose as the Jeffersons.
Courtesy/Fort Wayne Civic Theatre
An all-female cast is presenting the musical 1776 to salute the 100th anniversary of the 19th Amendment, which gave women the right to vote.
The show, a Civic Theatre production directed by Leslie Beauchamp, opens this Saturday at the Foellinger Outdoor Theatre.
Besides being a grand venue equal to the grand story being told, Leslie explains, the spacious outdoor structure provides a very safe and socially distanced platform for cast and audience, all of whom will be masked.
To get a sneak peek at what this will look and sound like, WBOI's Julia Meek sat down with Beauchamp and Amy Ross, who plays the role of John Adams, to discuss the many facets of the show's significance.
Event Information:
Civic Theatre's all-female production of 1776
@Foellinger Outdoor Theatre in Franke Park, Fort Wayne
Saturday, September 12th through Sunday, September 20th
Find ticket information and a complete listing of show times at the Civic Theatre website.