Tunnels Expected to Solve Sewage Overflow Problem in Indianapolis, Fort Wayne
A diagram of combined sewer overflows. During heavy rains waste backs up in the sewage system and overflows, untreated, into nearby bodies of water.
Environmental Protection Agency
The Indianapolis tunnel will reduce combined sewer overflows from 45-80 events per year down to 2-4. The actual number depends on the amount and timing of rain or snow storms.
Nick Janzen
Connector tunnels, like the one pictured here, will transport waste from the sewage system into the main holding tunnel.
Nick Janzen
A tray of unused metal disks wait to be affixed to the tunnel boring machinge. Instead of drilling, the boring machine pushes these disks against the bedrock in front of it. That pressure cracks the bedrock and the machine scoops the debris behind it.
Nick Janzen
Used disks rust in a metal bin, waiting to be disposed.
Nick Janzen
Over one hundred of Indiana's sewage systems need improvements to comply with federal pollution standards.
The Environmental Protection Agency has sued many cities and towns over sewage overflow problems. Some cities, like Indianapolis and Fort Wayne, are building large storage tunnels to fix the problem.
On a cloudy March morning south of downtown Indianapolis, near Lucas Oil Stadium, a group of engineers, journalists, and city utility officials cram into a cylindrical steel cage.
A crane lowers the cage down a giant drop shaft. We're going to see part of a 28 mile long tunnel complex more than 200 feet underground being built by Citizens Energy Group.
The tunnel is cut 18 feet in diameter with a small train track on the bottom. Walking next to the track along the curved wall is a little tricky. Groundwater seeps through the limestone bedrock that the tunnel is drilled through, collecting along the bottom.
This tunnel is part of the city's efforts to reduce the number of combined sewage overflows, CSOs. These overflows happen when it rains and they result in raw, untreated sewage dumping straight into rivers and lakes.
The tunnel is basically a large storage tank, explains Mike Miller, a construction manager for Citizens Energy Group. "So when there is a CSO event during a rain or snow melt, instead of combined sewage going to the river it will come in the tunnel and be stored and then be conveyed to our treatment plant and ultimately processed as sewage and released back to the environment as clean water," Miller says.
The tunnel is just one part of Indianapolis' plan to bring itself into federal compliance. Ft. Wayne is also building a tunnel. Smaller cities like Evansville and South Bend have chosen other options.
The EPA is mandating projects like this all over the country, because, when sewage flows into streams and river, people can get really sick. In severe cases, someone could contract hepatitis or gastrointestinal illnesses.
One of these overflow sites is just north of downtown Indianapolis, the 16th Street Dam on the White River.
Kevin Hardie, who works for the non-profit Friends of the White River, says 100 years ago it was perfectly acceptable to dump sewage here. "The solution to pollution used to be dilution," says Hardie. "Instead of having raw sewage run down the middle of the roads, the muddy streets, in an almost medieval like fashion, the idea was to get this away from where people live."
Until the new drainage projects are done, sewage overflows into the river at this point every time it rains. But people are clearly still coming here. Where Hardie and I are standing we can see broken beer bottles and torn grocery bags. There are signs, in English and Spanish, that warn people the water is dangerous.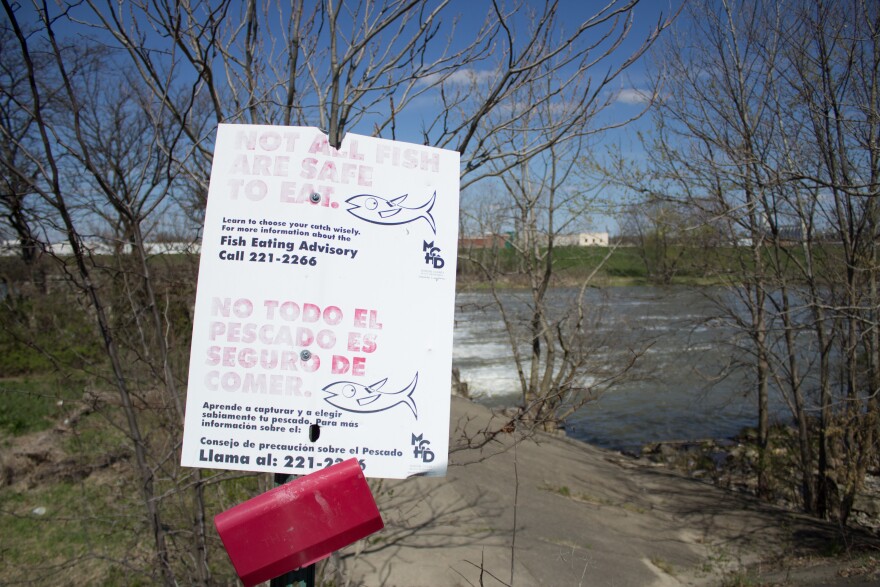 Hardie suspects some residents don't really take them seriously. "Many people in the inner city, or more recent immigrants to the city, have used the river not just as a recreational source, but as a source for sustenance if they're catching fish and eating fish. And there's an environmental justice aspect to that."
Both Hardie and the construction manager with Citizens Energy, Mike Miller, are confident that the tunnels being built in Indianapolis and Fort Wayne will successfully reduce the number of overflows and bring those cities' rivers into compliance with the EPA's standards.
The entire Indianapolis tunnel system is scheduled to be finished by 2025.