Two crashes involving school buses in two days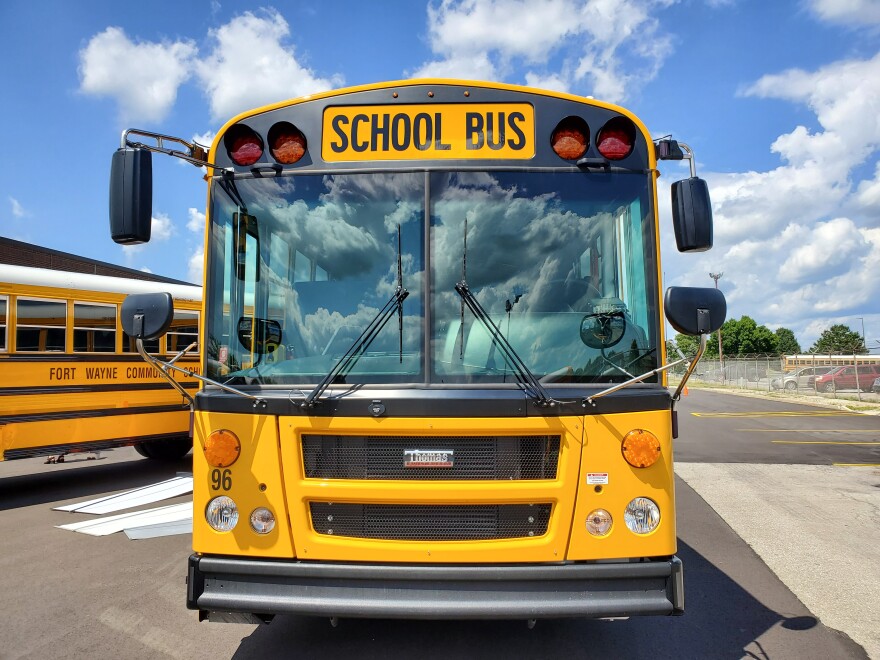 Fort Wayne Community Schools (FWCS) has had two days in a row where one of its buses was involved in a wreck. The district said it is fortunate they resulted in only minor injuries and none to the students on those buses. Yet, FWCS and Indiana State Police are calling on drivers to be extra careful around school buses.
According to the Fort Wayne Police Department, Wednesday's wreck happened when the FWCS bus was slowing down with its yellow lights on. A small car tried to go around the bus, but hit it instead. The drivers of both that car and the bus were treated for minor injuries. There was one student on the bus at that time of the crash who was not injured.
Tuesday saw an FWCS bus get hit by car as it was waiting to turn. A state police report said someone in a small Kia was speeding and hit a Honda van that was then forced into the back of the bus. The report said the Kia's dirty windshield and glare from the rising sun may have obstructed the driver's view.
The Indiana State Police gives school buses routine inspections to make sure they are up to safety standards. Trooper Wes Rolader is one of those inspectors. While preliminary investigations have ruled out the bus or the bus driver being responsible for either crash, Rolader says these two days must be a wake up call for drivers on the road.
FWCS agrees. In a statement released after the crash on Wednesday. spokesperson Krista Stockman said "drivers need to be aware when they are behind the wheel. When a school bus is in the area, motorists should be alert to any flashing lights. If the lights are flashing yellow, drivers should slow down and prepare to stop when the lights turn red and the stop arm is out. Vehicles should stay put until the stop arm is turned off and students are safely away from the vehicles."
As a state police bus inspector, Rolader said these wrecks should not make parents any less confident in their children's safety on a school bus.
Fort Wayne Community Schools has not announced any plan to change bus routes or safety regulations as a result of these two wrecks.